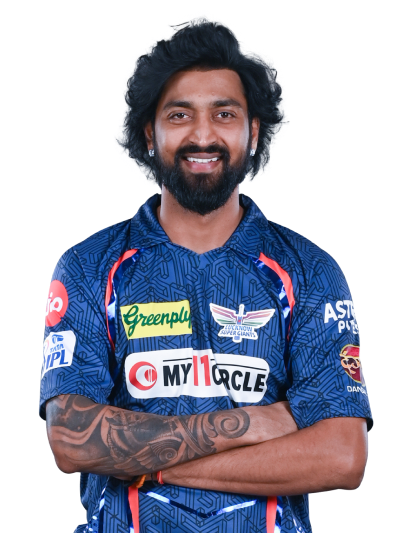 Batting Style
Left Handed
Bowling Style
Slow left-arm orthodox
Biography
One of the most in-demand players in the Indian T20 ecosystem, Krunal Pandya has created a niche for himself with his explosive batting and game-changing spells backed with a flair for fine fielding. Ever since his debut in the Indian T20 League in 2016, the Ahmedabad-born all-rounder has taken giant strides in his career.
Partnerships with brother Hardik Pandya in the local cricketing ecosystem, which included a big six-hitting ability, made him popular. Despite not making a first-class appearance, the Mumbai franchise backed Krunal's skills and picked him up for the 2016 edition.
Krunal repaid the faith with some mesmerizing performances in his debut Indian T20 League campaign, including an extraordinary 37-ball 86 against Delhi. Consistent performances throughout that season saw him making his first-class debut for Baroda later that year. With 366 runs and 11 wickets, he became Baroda's leading run-scorer and wicket-taker in the 2016-17 Vijay Hazare Trophy.
The elder of the two Pandya brothers, Krunal once again came to the limelight in the 2017 Indian T20 League final, wherein his Player of the Match performance won the title for his team.
Krunal continued putting in excellent performances over the due course which led to his T20I debut for India in November 2018. He, further, made his ODI debut for the country in March 2021. His three-dimensional offering made KP a much sought-after player in the Indian T20 League 2022 auctions.
Having been snapped up by Lucknow Super Giants, Hunarbaaz Pandya, as he is fondly known, has emerged as a vital cog in the LSG setup. Krunal was also named as the vice-captain of the franchise ahead of the 2023 season.
IPL Statistics
BATTING & FIELDING
MAT
NO
RUNS
HS
AVERAGE
S/R
100S
50S
4S
6S
DUCKS
CT
ST
2023
15
4
188
49 v MI
18.80
113.93
0
0
15
6
3
8
0
2022
14
4
183
42 v RCB
20.33
126.20
0
0
16
4
1
7
0
2021
13
2
143
39 v RR
14.30
116.26
0
0
10
6
0
6
0
2020
16
6
109
34 v PBKS
18.16
118.47
0
0
9
5
2
4
0
2019
16
4
183
42 v CSK
16.63
122.00
0
0
18
5
2
5
0
2018
14
3
228
41* v CSK
22.80
145.22
0
0
22
10
0
9
0
2017
13
4
243
47 v RPS
34.71
135.75
0
0
24
7
1
2
0
2016
12
3
237
86 v DC
39.50
191.12
0
1
22
13
1
2
0
Overall
113
30
1514
86 v DC
21.94
133.39
0
1
136
56
10
43
0
BOWLING
INN
BALLS
RUNS
WKTS
BBI
AVE
ECON
S/R
3W
5W
2023
12
252
313
9
3/18 v SRH
34.77
7.45
28.00
1
0
2022
12
228
265
10
3/19 v MI
26.50
6.97
22.80
1
0
2021
12
199
265
5
1/13 v KKR
53.00
7.98
39.80
0
0
2020
16
301
380
6
2/26 v DC
63.33
7.57
50.16
0
0
2019
16
276
335
12
3/34 v RR
27.91
7.28
23.00
1
0
2018
13
241
284
12
3/28 v RCB
23.66
7.07
20.08
1
0
2017
13
240
273
10
3/14 v GL
27.30
6.82
24.00
2
0
2016
11
187
236
6
2/15 v DC
39.33
7.57
31.16
0
0
Overall
105
1924
2351
70
3/14 v GL
33.58
7.33
27.48
6
0